GREEN SWAN GS Merilin Harmony (tbl 60 + 30 zadarmo)

2x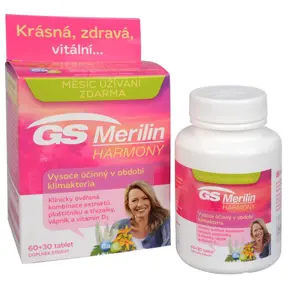 Výživový doplnok obsahuje extrakt z ploštičníka (Cimicifuga racemosa), ľubovníka bodkovaného (Hypericum perforatum), vápnik a vitamín D3. Vápnik je potrebný na udržanie zdravých kostí. Vitamín D3 prispieva k normálnej hladine vápnika v krvi, prispieva k udržaniu zdravých kostí. Viac na adcc.sk
Tovar je možné zakúpiť v nasledovných obchodoch:
Najnakup.sk pre Vás vyberá zaujímavé ponuky eshopov
Ponuky pre GREEN SWAN GS Merilin Harmony (tbl 60 + 30 zadarmo)

Danica 26.09.2013
Celkové hodnotenie: 100 %
Neviem, či účinkuje iným tak zázračne. Ja ho užívam už 3mesiace a návaly tepla stále mám. Neviem ako iný, ale užívam ho hlavne kvôli zmiznutiu návalov. Neviem, či ho budem užívať aj po tom, čo doužívam to, čo mám doma.
naposledy hodnotené produkty v tejto kategórii (10)

Stanislava 17.05.2013
zacala som uzivat tento produkt, spociatku som mala pocit, ze to zabralo, ale teraz ked som si kupila dalsie balenie, navaly tepla sa vracaju, akokeby to uz neucinkovalo.Preco?