FISHER PRICE kolotoč nad postielku motýliky

8x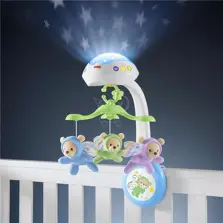 FISHER PRICE Kolotoč nad postieľku motýliky CDN41,  Fisher Price. Viacúčelový pohyblivý látkový kolotoč s jemnou farebnou projekciou na strop a nežnými uspávankami. V novom dizajne.  Upokojujúci kolotoč nad postieľku hviezdna noc zaleje celú detskú izbu do upokojujúceho náručia hviezd. - kolotoč vysiela pohybujúce sa ... čítať viac
Tovar je možné zakúpiť v nasledovných obchodoch:
Najnakup.sk pre Vás vyberá zaujímavé ponuky eshopov
Ponuky pre FISHER PRICE kolotoč nad postielku motýliky
100%
pomer ceny a kvality

VLADY 26.12.2009
Čo je to rýchlo? 10min - hodina - celý deň? A ak sa smiem spýtať aké batérie ste použili? alkalické alebo obyčajné zinkouhlíkové? Nerád by som kúpil prístroj ,ktorého mesačná prevádzka bude drahšia ako celková nákupná cena. Ďakujem .

Zuzanaa 28.12.2009
Ahoj. My sme tento kolotoč mali, boli sme veľmi spokojní. Za rok sme vymenili len raz baterky a to nám malá zaspávala každý večer pri kolotoči - šiel cca 30minút denne. Osvedčili sa nám do všetkých vecičiek na baterky alkalické betérie z Lidlu a to sme napr. vo foťáku vyskúšali i duracelky a iné tak reklamované batérie no tie z lidlu vydržia najdlhšie. Myslím, že kúpu tohto kolotoča neoľutujete.

k chauturova 17.12.2009
aj vam sa na tom kolotoči tak rýchlo vybijaju baterie?